Advanced business VoIP features for enterprise communications
Ooma Enterprise comes with all of the business communications features you'd expect from an enterprise system and more:
Active call list/call timers
+
Clear call-timer counters allow you to see how many people are on the call and see how long they've been talking.
Advanced call quality management
+
We've built our platform to oversee the quality of your phone calls. This helps us proactively monitor your environment for conditions that may impact voice quality.
Our platform is designed to be API-driven and supports websockets and web hooks. Highly adaptable and flexible, our platform can help you customize your current and future integration needs.
Auto attendant/virtual receptionist
+
This feature allows callers to be transferred to an extension based on their selection from a menu without help from a live operator or receptionist.
Ooma Enterprise can set up billing codes so that users can tag inbound calls to a specific client or activity while the call is in progress, making accounting much more streamlined.
Our intuitive interface makes it easy to set up simple to complex call flows with just a few clicks.
Create settings that forward calls to different locations based on the status of the extension.
Administrators can view and export inbound and outbound call details by the originator, destination, rate centers, duration, and cost. Users can view their call history for their own extension via a web portal.
A user can pause a current conversation, and he or another user can retrieve the call from any phone.
Whether it's for call center compliance, record keeping, agent training or process improvement, keeping a record of important calls is easy with our extensive call recording capabilities. We allow you to set call recording on an ad-hoc basis or create an always-on setting.
Ooma Enterprise customers can manage calls differently depending on the caller-ID. For example, specific incoming caller-IDs can always be forwarded to a cell phone, whereas others can be sent to voicemail or disconnected.
View callers' phone numbers or name (if available) on incoming calls.
Classes of service: role-based controls
+
Allows restriction of outbound calls, either entirely or by calling areas (local, toll, domestic, international) on a per-user basis.
Ooma Enterprise gives you full conferencing capabilities at no extra cost. Easily set up and manage calls with an unlimited number of participants at anytime from anywhere.
Conference room management
+
Create conferences, mute or remove participants, change volume and activate recordings, all from your browser.
The Ooma Enterprise call center platform, powered by Talkdesk, empowers companies to continuously improve customers' experiences.
Dashboard/heads-up display
+
Get a full view of your company status in an easy-to-read comprehensive dashboard.
Our unique approach to desk phones provides a user experience that's tailored to our platform. Through our desk phone integration, we expose specific functionality and soft keys tailored to business communication so end users can conduct calls easily and efficiently.
A user can temporarily prevent incoming calls from ringing their extension and route them automatically to voicemail or another pre-programmed destination.
The auto-attendant global or menu option enables callers to reach a user by dialing his or her extension.
This auto-attendant menu option/directory lets callers reach a user by dialing the first few letters of the last name or first name.
Ooma Enterprise provides full end-to-end encryption for all calls, including audio and video streams.
Ooma Enterprise sends location information to your local Public Safety Answering Point (PSAP) when a 911 call is made from an on-network Ooma Enterprise phone.
Utilize our bundled efax solution to electronically send and receive faxes. Have a fax machine? Our solution can handle that too.
Create lists of numbers that you would like to be 'found at' (such as a cell phone) before sending an inbound call to voicemail. For example, you can configure the system to first ring your office phone, then after a number of unanswered rings, to ring your cell phone, then your home phone.
Employees can log into a shared phone that immediately behaves like their own extension. With this feature, employees can make and receive calls, and check their messages.
We provide instant messaging services for team-based communications, including presence, audio, video, and more.
Interactive voice response / IVRs
+
Use our robust IVR capabilities that allow you to integrate with third party solutions. You can set up menus to collect information from callers, take unique actions based on the data and pass it along to employees within your organization when they answer the phone.
Two users can communicate hands-free via speakerphone.
Inbound numbers are assigned to your company no matter where you are. You can be in your office in L.A. and service customers on the other side of the world, all while appearing local.
Our mobile apps take advantage of the latest technology in both iOS and Android formats. Being out of the office doesn't mean you are disconnected from your work.
Authorized users can upload music and other audio files and play that audio across their enterprise for callers on hold.
On-phone presence monitoring
+
Users can view the on or off phone status of other users' lines with associated line buttons.
Video calling between individual users is easy. With a video-enabled phone, softphone, or mobile application, 1:1 video calls are just as simple to make as audio calls.
Ooma Enterprise can set up intercom groups that enable a user to communicate hands-free with multiple users via their speakerphones.
Personal automated attendant
+
Unanswered calls to a number or extension are delivered to a voice prompt that allows callers to choose from multiple options (e.g. another extension, an external number) or deposit voicemail.
See when other users in your organization are on a call, out of the office, on vacation, in a meeting, etc.
Whether you need the flexibility of multiple call options or no longer want a traditional desktop phone, you can place and receive calls using your business number on your favorite Android and iOS devices. Ooma Enterprise's visually appealing interface is intuitive and easy to navigate so you can connect easily from almost anywhere.
Users can get easy access to their queue login, log out, and call retrieval functions from their browsers.
Allows calls to a single number to ring on multiple phones simultaneously or in a series.
Get notifications for incoming calls and conference calls, pause music, or integrate with 3rd party apps (CRM lookup, etc.).
Shared line appearances
+
Use your Google or Microsoft Office 365 credentials to log in to the Ooma Enterprise management portal.
Time-dependent call treatment
+
Ooma Enterprise can configure auto-attendant (AA) functionality that facilitates different calling experiences depending on the day of the week or time of day. Once set up, users can enable or disable different call treatments.
Because we have a global presence, users can access toll-free numbers in more than 150 countries. This means that your clients in Tokyo can call your office toll-free, making communication more convenient for your customers globally.
Eliminate the need for expensive third-party conferencing solutions. Our platform provides full video conferencing with multiple participants across desktop, mobile, and web formats. Bandwidth is also optimized for HD conferencing with this feature.
Messaging is fully integrated with your Ooma Enterprise phone system.
Voicemail transcription
+
Ooma Enterprise transcribes voicemail messages into text and then sends them, along with an audio file, to the user's email. No more dialing voicemail to see who called – it's all there in the inbox.
This feature allows an authorized user (the barge initiator) to listen in on an active call of another use (the barge target). You can join calls in progress, listen, talk to both, or whisper to your agent.
As you can see, the Ooma Enterprise cloud phone system is loaded with features. Is it right for your business? Chat with one of our experts and find out.
---
Enterprise Communications Features
Enterprise White Papers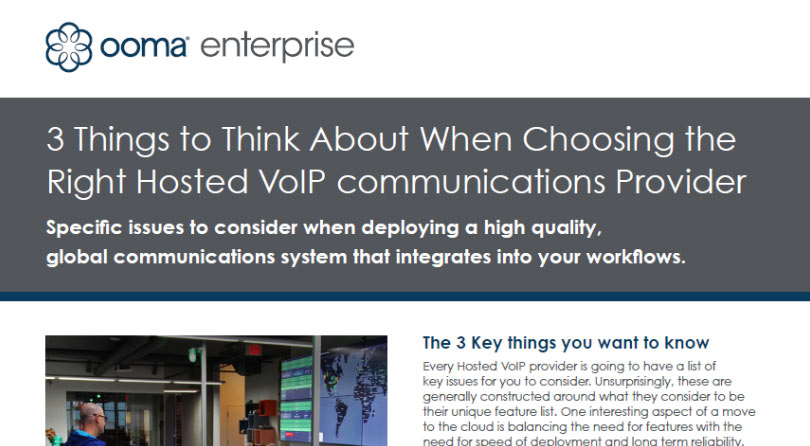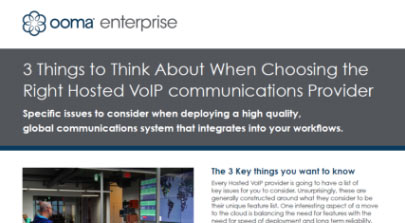 3 Things to Think About When Choosing Hosted VoIP Provider
Discusses specific issues when deploying a global communications system.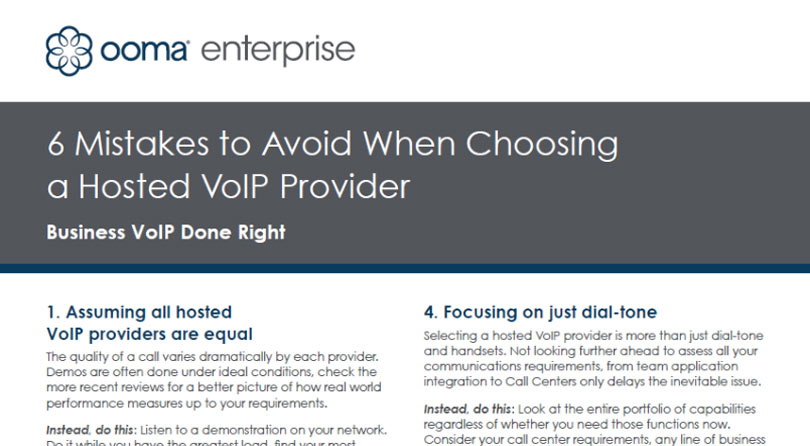 6 Mistakes to Avoid When Choosing a Hosted VoIP Provider
A quick checklist review of things to consider for cloud based communication.