Improve productivity and transparency
CRM systems are the repository and management instruments for business information. Salesforce and Microsoft Dynamics are two of the most popular CRM systems in the world because they put the focus on sales and service, not administration.
Ooma Enterprise CRM Integration unifies a cloud based phone system and hosted call center platform with these systems and unleashes its true productivity and analytic potential. Ooma Enterprise unifies the data and enhances the functionality of both applications.
Integrating your business communications system with your CRM will increase your sales effectiveness, support productivity and make everyone who touches the CRM – customers, prospects, management, sales, and support staff – much happier.
CRM integration features
With Ooma Enterprise CRM integration capabilities, users can enjoy:
Start a call from within the CRM anytime a phone number is available. Click-to-dial saves 15-30 seconds, eliminating common errors. Less time dialing also means more time focused on core functions.
Inbound screen pops provide instant visibility into who is calling. Relevant contact information is displayed before the call is answered.
Call records are captured in the Lead or Contact record for all calls made from Ooma Enterprise, including conference calls. This gives your team a more detailed and accurate view of customer calls.
With workspace transfer, service agents are able to transfer the entire user workspace along with the phone call for an optimized customer service experience.
Benefits of data integration
Employees spend time adding value to customer and prospect calls, rather than dialing or logging activity.
Callers are delighted when the person answering the phone knows who they are and can get right to the reason for the call.
All call records entered into the system are automated. This frees up your team to work with prospects or customers, and improves the accuracy of reports and analyses.
The combination of information in your CRM and data from the phone system gives management a clearer view of critical business metrics. Create dashboards to serve as an early indicator of sales, service or operational performance.
Once the communications system and your business applications are linked, recording the interaction will be a natural part of making the call, rather than an afterthought. Adoption will increase enterprise-wide.
CRM integration has something for everyone
Service and support
Provide faster and more personal customer service.
Understand sales and service trends and metrics.
Sales
Sales staff can make more outbound calls.
Quickly create follow-up tasks to move deals along faster.
Marketing
Tie marketing phone numbers to campaigns.
Calculate campaign effectiveness and ROI.
Telemarketing
Allow staff to place calls more rapidly.
Encourage accurate, complete notes.
Accounting
Make more collections calls.
Retain accurate records of calling history.
Management
Collect detailed phone-based metrics to calculate customer profitability and leading indicators.
Talk to an Ooma Enterprise unified communications expert today to learn more about our integration capabilities.
---
Enterprise Communications Features
Enterprise White Papers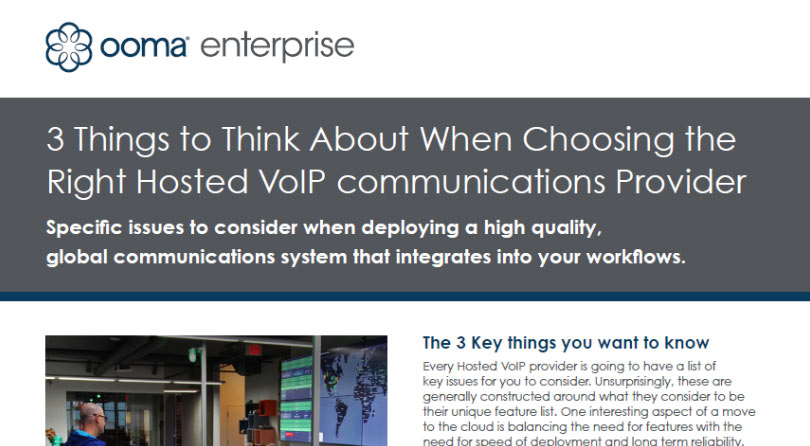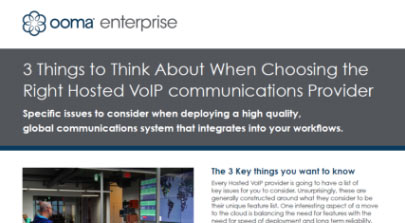 3 Things to Think About When Choosing Hosted VoIP Provider
Discusses specific issues when deploying a global communications system.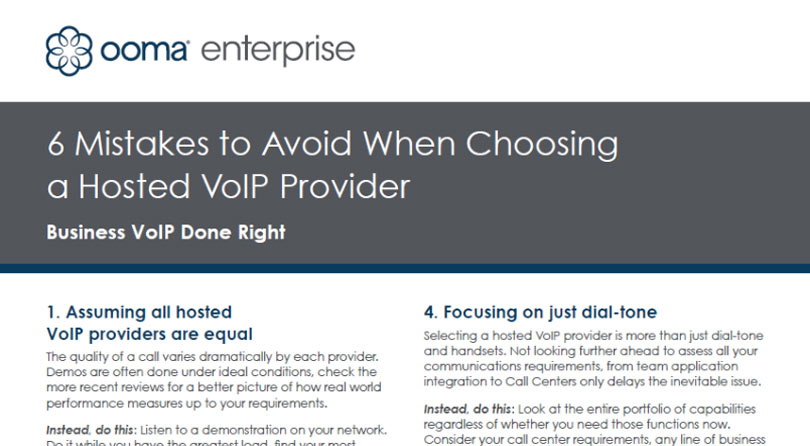 6 Mistakes to Avoid When Choosing a Hosted VoIP Provider
A quick checklist review of things to consider for cloud based communication.