For most companies, making the switch from a traditional, premise-based hosted PBX phone system to a vendor-managed, enterprise cloud phone system is a sound business move that will bring a host of benefits.
However, based on the way managed applications are carried out and maintained, the vendor will also become a key partner. It's more important than ever that businesses correctly identify the solution that best suits their needs during the VoIP vendor selection process.
Not all VoIP solutions or providers are the same
If you're researching enterprise-class business communications systems, you've probably noticed that there is a broad range of features, service levels and prices available. Some providers compete only on price, but there may be other important considerations for your business.
Choose a partner, not just a vendor
When you select a cloud-based enterprise VoIP solution, you free yourself from the multiple vendor nightmare of the traditional PBX world. Now one VoIP vendor is supplying the entire solution and acting as your company's communications IT department.
This is very beneficial because your internal resources become free to focus on more strategic initiatives, you have one vendor to call for help, and just one invoice to process. Of course, this can quickly become a negative if you've chosen the wrong vendor.
In other words, if you are going to put all of your eggs in one basket, get a good basket.
Because of the growing acceptance of cloud computing and the high demand for cloud phone solutions, the list of providers continues to change as new companies join the market and others are acquired by larger firms. This makes it critical for businesses to make a very careful vendor selection. In addition to choosing a vendor with great references, it's important to select one with a significant track record, a strong management team and excellent customer support.
We also believe it's important that the vendor accept 100% responsibility for the technology and service that it provides to its customers. That's why we own our cloud-based call routing and management platform rather than white-label some other provider's technology as many other hosted providers do. We invest in our own research and development based on our deep connections with our customers.
Premium managed business communications
Ooma Enterprise is a premium service. Our solution includes a unique customer experience as well as a variety of sophisticated, yet easy-to-use applications to fully unify corporate communications.
Here are our answers to the list of questions we recommend asking of any provider you consider.
What is included? Our solution includes all of the features you would expect from an enterprise-class phone system, including auto attendants, personal call routing, coaching tools, desktop call management, and video chat. It goes beyond just voice to include a sophisticated virtual call center platform, messaging, conferencing, and a mobile app.
How does it work? Our clients connect to our data centers through dedicated private circuits designed for this purpose. We also deploy backup connectivity to ensure service in the rare event that a primary circuit experiences a problem.
How is it installed/set up? We believe that a smooth and painless implementation is a key component of long-term satisfaction with our solution. Therefore, each client is assigned a Success Hero who will assist with the deployment from beginning to end.
Who should consider it? Our premium service is designed for clients who want to be out of the business of managing a phone system, but still want a solution that is configured for their exact needs. We fully manage the deployment, the phone system, and support all end users via a unique and unparalleled customer service experience.

Premium service is essential for companies that rely on the phones to generate revenue and maintain customer loyalty. If your calls are primarily between employees and prospects or customers, and poor quality or service interruptions are unacceptable, you should strongly consider a premium solution.

What is the downside? The resources to manage and monitor the network, provide personal installation assistance and support end users are expensive. There is no debating it, premium service is not the lowest cost option. However, our clients find that the scale of our organization and our experience in providing outstanding solutions provide value that outweighs the cost. We also recommend you read our enterprise communications buyers guide for more helpful tips.
We understand the significance of of selecting a reliable VoIP vendor and encourage our clients to learn as much about the vendors they consider as possible candidates. We are transparent about our record for reliability and customer satisfaction, and encourage companies to be very wary of vendors that are not.
Ooma Enterprise strives to be the most innovative, dependable VoIP provider in the marketplace. As you continue to do more research, feel free to reach out for a demo.
Enterprise White Papers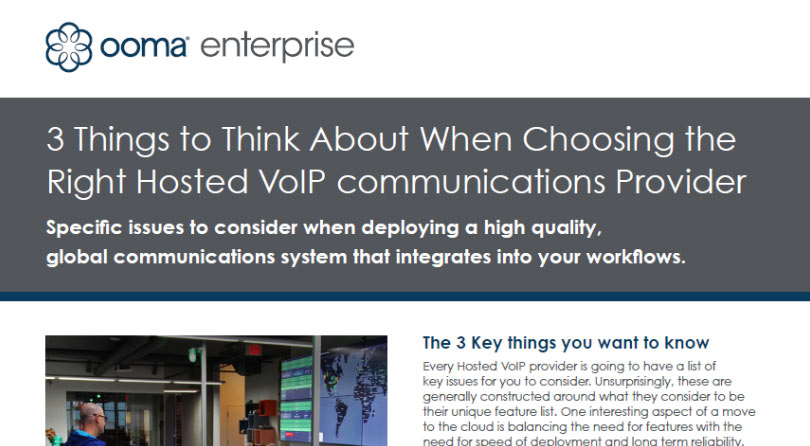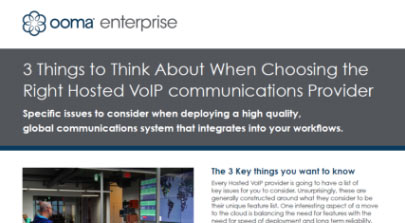 3 Things to Think About When Choosing Hosted VoIP Provider
Discusses specific issues when deploying a global communications system.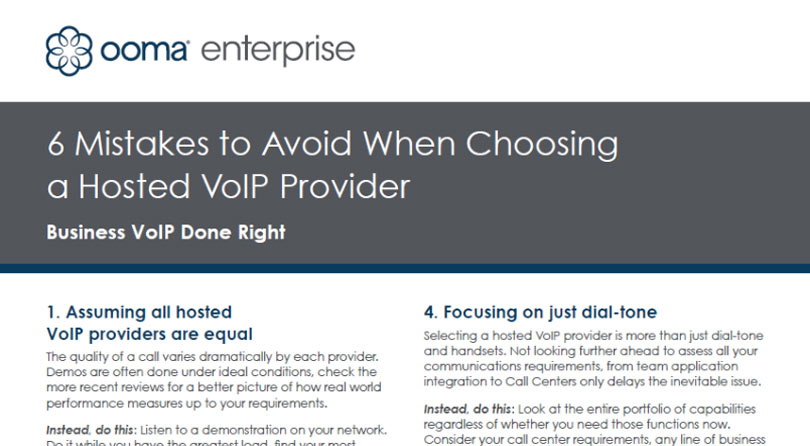 6 Mistakes to Avoid When Choosing a Hosted VoIP Provider
A quick checklist review of things to consider for cloud based communication.