VoIP Reliability – Risk Management – Enterprise Security
We know your business can't afford anything less than a phone system that's always on. That's a pretty simple proposition, but not every solution out there invests in the foundation necessary to make that possible. We do, and here's what that looks like.
Our Network
We've developed a globally redundant voice network that has multiple connections to international Tier 1 carriers. We continuously monitor the network for any issue that could compromise voice quality.
Our points of presence (POP) network is the backbone of our service. We take great pride in our footprint and have spent years perfecting it, guaranteeing only the highest quality and service.
Our network lets you enjoy:
We have POPs in Vancouver, Toronto, San Jose, London, Tokyo and Melbourne. Our geographically aware POPs ensure your call leaves our PBX network as close to its intended destination as possible, which reduces costs and improves voice quality.
Additionally, POPs give you a local presence. You can be in your office in Calgary and service customers on the other side of the world — all while appearing local to them. We have access to toll-free numbers in over 150 countries, so your clients in London can call your London office toll-free. Greater convenience equals a better customer experience. You can compare enterprise options here.
Multiple carrier options allow calls to connect more seamlessly. Redundancy in carriers guarantees that if one call is having an issue, we can seamlessly and invisibly route the call to another. We also deploy a unique active/active architecture that is synchronized between POPs. The end result is high availability within each POP for service and the ability to fail between POPs seamlessly if there is an issue at a particular location.
Our platform can intelligently route your calls via the most intelligent path, meaning you always have a crystal-clear conversation.
Better conference calls
+
You can be confident that your conference calls will work well when they are on our PBX network. Our multiple POPs enable clear voice calling to any global location.
Dedicated voice circuits
Ooma Enterprise uses dedicated voice circuits from your offices to our facilities. This ensures that there's never an issue of bandwidth contention, and whenever troubles arise, we have full control and visibility over the path between us and you. This allows us to guarantee service availability and response times, and gives you superior call quality.
What is a dedicated voice circuit?
A dedicated voice circuit is an internet connection that carries only traffic to and from the Ooma Enterprise VoIP network to your office. Sure, you already have a connection to the public internet, but think about the heavy use it gets during the workday. Add voice to that connection, and you're just asking for degraded quality, dropped calls, and jitter. A connection dedicated solely to voice gets rid of those problems.
Because we offer dedicated voice circuits, you get:
A service-level agreement
+
We guarantee uptime and reliability. This means we respond to any issue or request immediately to stick to that guarantee. These dedicated voice circuits give us the visibility we need to find and fix any problem.
Because it's a dedicated circuit, no one's using it to stream music or sync their latest 1,000 photos to the cloud. The quality of your voice calls is far superior to those that share a public internet connection.
We control the firewalling, intrusion prevention system, and other security over the dedicated voice circuit to ensure nobody can capture your traffic.
We take these dedicated circuits into account when engineering best-path routes between our carriers, our networks, and you. We can design a custom routing plan for a company's specific needs, whether it's routing preference, lowering phone service costs or providing clearer business calls.
Our cloud phone system for enterprise business has an infrastructure that is essential for delivering the Ooma Experience. Our goal of eliminating all single points of failure is the reason for our investment in several levels of redundancy to maximize uptime for your business. You deserve the most reliable VoIP service, period.
Enterprise White Papers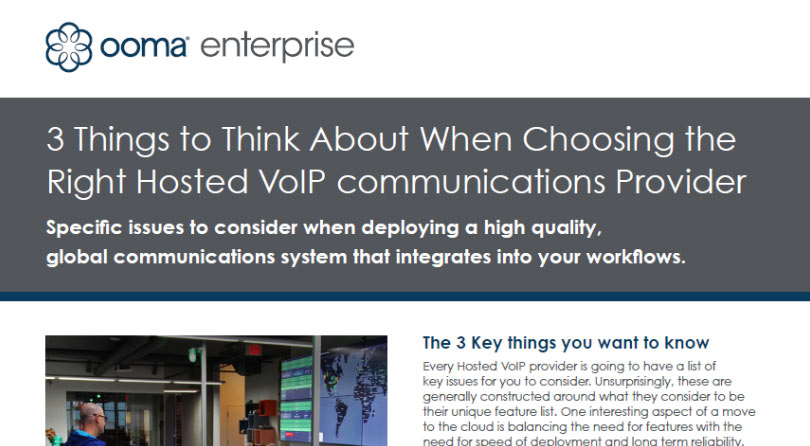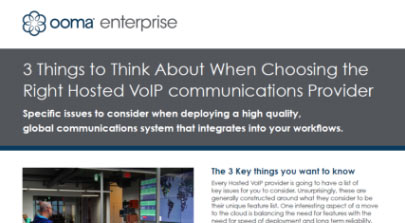 3 Things to Think About When Choosing Hosted VoIP Provider
Discusses specific issues when deploying a global communications system.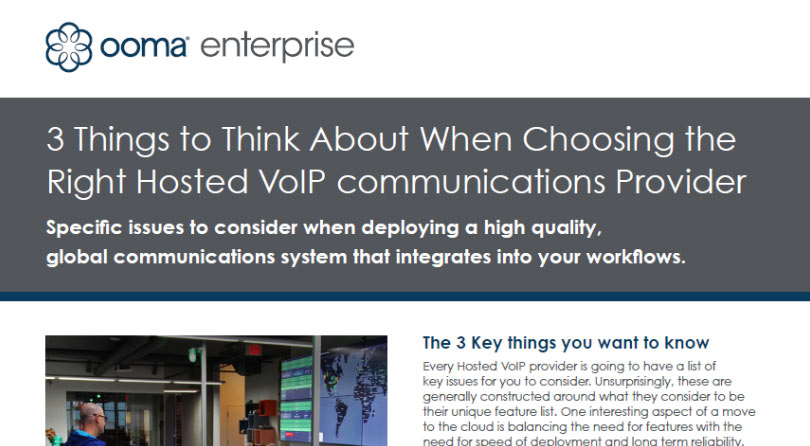 6 Mistakes to Avoid When Choosing a Hosted VoIP Provider
A quick checklist review of things to consider for cloud based communication.